ANALISIS YURIDIS KESULITAN AHLI WARIS MELAKUKAN KLAIM ASURANSI JIWA DEBITUR YANG MENINGGAL DUNIA DISEBABKAN COVID-19
Rizky Dwi Utami

Universitas Kader Bangsa
Abstract
Life insurance is a form of self-protection for the future when something unexpected happens. Based on the law, credit can also fall on heirs if the debtor dies before paying off the remaining credit. However, the Covid-19 period is often used as an excuse by insurers as a form of disease, not an epidemic. This is what makes the heirs unable to claim the insurance. This study aims to analyze the legal consequences of credit agreements for debtors who have died as a result of Covid-19. This study uses normative research methods with constitution and conceptual approaches. The results of the study show that the legal consequences of the credit agreement in the event that the debtor dies there are 2 possibilities, namely: the credit goes to the heirs as stipulated in Article 833 of the Civil Code (Burgerlijk Wetboek) or the guarantee is executed by the leasing party, and the second possibility is the credit is written off due to a life insurance clause or life insurance agreement. This means that here the insurer must be responsible for paying off the remaining debts of the debtor who died according to the terms and conditions in the policy, otherwise the interested party can submit a subpoena to sue the insurer. Because considering that Covid-19 is an epidemic/pandemic that was never predicted and thought about, it is not a disease that has long existed in the debtor's body. From this, it can be concluded that the parties must fully understand the contents of the credit agreement made, so that later if this risk occurs, the insurance can be disbursed.
Keywords: Insurance; Debtor; Heir; Covid-19; Agreement;
Downloads
Download data is not yet available.
References
Ahmad, Saebani Beni, 2008, Metode Penelitian, Bandung : Pustaka Setia.
Subekti, 2005, Hukum Perjanjian, Jakarta: Intermasa.
Burgerlijk Wetboek (BW)
Peraturan Presiden Republik Indonesia Nomor 9 Tahun 2009 Tentang Lembaga Pembiayaan
Bayu Agung Pamungkas, Hak Ahli Waris Untuk Memperoleh Pembayaran Klaim Atas Meninggalnya Tertanggung Pada Asuransi Jiwa Bersama Bumi Putera 1912 Jember, Diakses melalui http://repository.unej.ac.id/handle/123456789/26239, Tanggal 12 September 2022, Pukul 15.00 WIB.
Dewi Ayu Pambudi, 2016, Tanggungjawab Ahli Waris Debitur Dalam Kredit Dengan Jaminan Fidusia Di PT. BNI Sentra Kredit Kecil Solo, Jurnal Private Law, Level IV No.2 Juli, Desember 2016, Diakses Melalui https://media.neliti.com/media/publications/164650-ID-tanggungjawab-ahli-waris-debitur-dalam-k.pdf, Tanggal 12 September 2022, Pukul 20.36 WIB.
Ni Putu Purnama,Dkk, 2021, Tanggung Jawab Pihak Asuransi Terhadap Perjanjian Kredit Bank Dalam Hal Debitur Meninggal Dunia, Jurnal Kontribusi Hukum Volume 2 Nomor 1, Januari 2021, ISSN: 2746-5055.
Windy yolandini, joni emirzon, mada apriandi zuhir, 2020, "Kewajiban Pemakaian Bahasa Indonesia Dalam Kontrak Asing di Indonesia", lex lata jurnal ilmu hukum.
Zaky Afdika, Klaim Asuransi, Diakses melalui https://www.qoala.app/id/blog/asuransi /umum/panduan-klaim-asuransi-lengkap/ , Tanggal 09 September 2021, Pukul 21.00 WIB
Pandemi Menurut WHO", diakses melalui https://covid-19.go.id/tanya-jawab?search=Apa%20yang%20dimaksud%20dengan%20pandemi, tanggal 09 September 2022, Pukul 20.24 WIB.
Aprilia Ika, Nasib kredit jika nasabah meninggal dunia, Diakses melalui https://money.kompas.com/read/2016/12/11/180000826/bagaimana.nasib.kredit.motor.saat.nasabah.meninggal.dunia.?page=all, Tanggal 12 September 2022, Pukul 13.00 WIB.
Ardito Ramadhan, Putusan MK: Leasing Tak Boleh Mengambil Sepihak Harus Ada Putusan Pengadilan, Diakses melalui https://nasional.kompas.com/read/2020/01/11/10521441/putusan-mk-leasing-tak-boleh-lakukan-penarikan-sepihak-harus-lewat, Tanggal 12 September 2022, Pukul 21.00 WIB.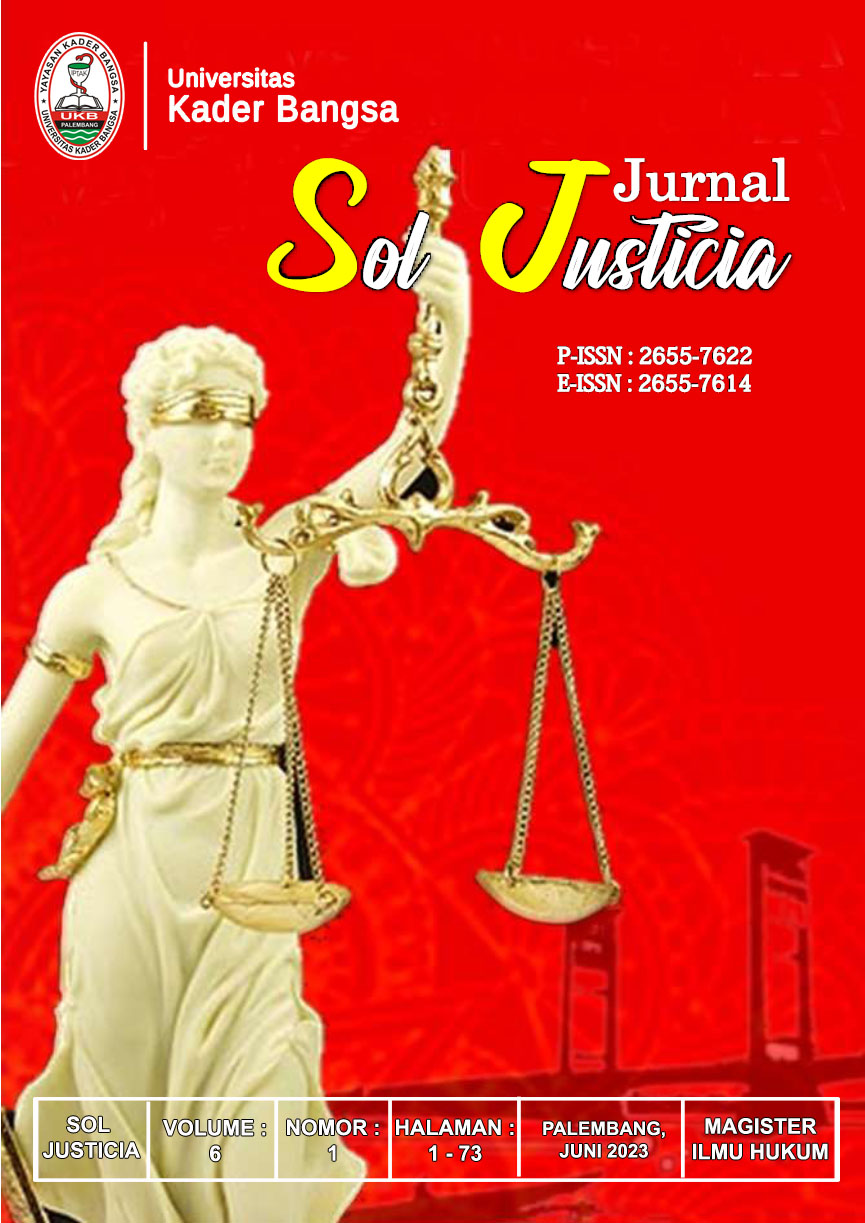 How to Cite
Utami, R. (2023). ANALISIS YURIDIS KESULITAN AHLI WARIS MELAKUKAN KLAIM ASURANSI JIWA DEBITUR YANG MENINGGAL DUNIA DISEBABKAN COVID-19. SOL JUSTICIA, 6(1), 9-16. https://doi.org/10.54816/sj.v6i1.640
Copyright (c) 2023 SOL JUSTICIA
This work is licensed under a Creative Commons Attribution-NonCommercial-NoDerivatives 4.0 International License.